ABRASIVE BLASTING ADELAIDE
It is an efficient way of removing foreign elements from almost any surface. Hartech Pty Ltd specialises in all forms of abrasive blasting, also popularly known as sandblasting or grit blasting.
Corrosion is inevitable and impacts the strength of metal, damaging it significantly. National Association of Corrosion Engineers (NACE) defines corrosion as a "naturally occurring phenomenon" resulting from the reaction of metal surfaces with the external environment, leading to rust formation and its weakening.
Sandblasting is a way of removing this rust effectively. However, merely plastering a layer of coating over the rusted surface will not prevent further damage. It is of utmost importance to remove the rust underneath to ensure no further rust oxidation occurs.
Abrasive Blasting Explained
Abrasive blasting is the process of forceful thrusting of a high-pressure blast of abrasive material (bead, water, dry ice etc.) on a metallic surface. It is aimed at:
Smoothening rough surfaces or vice versa
Removing foreign matter from the surface
Advantages
Grit or sandblasting is the preferred rust removal method of choice by corrosion experts for many reasons, some of which are enlisted below.
It leaves the surface unscathed while successfully removing contaminants.
Sandblasting can address corrosion and remove rust from the remotest of corners like concrete parking garages or insulated corroded metal elements.
It enables targeted removal of corrosion eliminating the need for recoating the entire element surface.
It prepares the surface for powder coating, thereby, considerably reducing the probability of treating corrosion at a later stage.
The cost of corrosion treatment can far outweigh the dollars you spend on sandblasting before the coating process.
Abrasive Blasting at Hartech
Hartech Pty Ltd. offers abrasive blasting services for both dry as well as wet blasting. Our dry blasting process uses garnet, grit, alumina or shot as abrasive material. On the other hand, for wet blasting, we use garnet and beads as the abrasive material.
At Hartech, we are equipped with all the latest tools and machinery needed for sandblasting including blasting container, propeller and nozzle. We also have a purpose-built blast room in our workshop containing:
ultra-modern dust extraction equipment, and
recycling of grit/ garnet used in blasting
which has been recognised within the industry as cutting edge process.
Exceptional customer service is a way of life for us at Hartech. We take it a notch higher by coming right at your doorstep. Yes, you read it right! You don't have to worry about waiting for days for an assessment or weeks for rust to be removed from your metal surfaces. Hartech Pty Ltd has mobile sandblasting set up for onsite blasting projects.
Give us a call today for a quick quote and benefit from expert workmanship, quality products and personalized service, in minimum turn around times!

ADDRESS: 34 ADAM ST, HINDMARSH, SA, 5007
Pick up and delivery service available
Nace Coating Inspector Level 1 – Certified, CIP No. 13390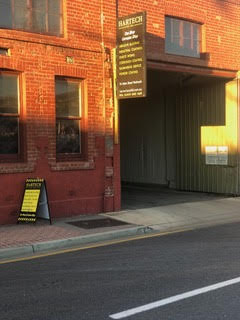 Front entrance to Hartech - 34 Adam Street, Hindmarsh S.A.5007
Follow Us on Social Media: