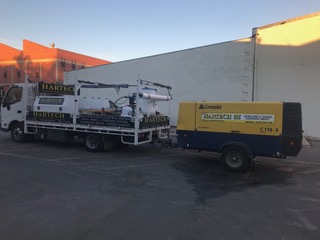 Hartech's 2 service trucks pull their own compressors and are fully equipped to conduct all services on site.
Pick up and delivery service available.
Nace Coating Inspector Level 1 – Certified, CIP No. 13390
Hartech Pty Ltd. are conveniently located close to the city of Adelaide and their multiple workshops can be accessed from either the front entrance at 34 Adam Street, Hindmarsh, or the rear entrance at 8 River Street, Hindmarsh S.A.5007.
River Street is a much quieter Street than Adam street plus it has a wider access way. Haretch receive all types of equipment ranging from the very big to the domestic gates. We have forklifts always available to help our customers unload all shapes and sizes for abrasive blasting surface coating.
Hartech Pty Ltd. also have two fully-equipped mobile trucks which have worked in every Adelaide Suburban Council area and all over South Australian country.
Structural Steel Repairs – Abrasive Blasting – Powder Coating – Surface Coating

ADDRESS: 34 ADAM ST, HINDMARSH, SA, 5007
Pick up and delivery service available
Nace Coating Inspector Level 1 – Certified, CIP No. 13390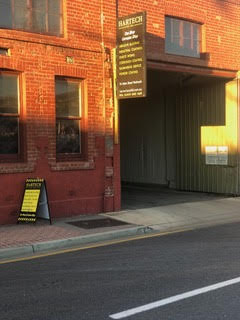 Front entrance to Hartech - 34 Adam Street, Hindmarsh S.A.5007
Follow Us on Social Media: