BLASTING & COATING SERVICES FOR CORROSION PREVENTION
Hartech Pty Ltd. offers blasting and coating services for corrosion prevention. We source from a wide network of trusted South Australian suppliers and adhere to a proven quality system to give you the best quality products.
At Hartech, we have built an extensive portfolio of services we offer over the years. Some of these are offered at our workshop, including treatment of:
Fabricated Steel
Trailers
Outdoor Settings
Screen Doors
Cars
Water fountains
Fences
Wheels
Stainless Steel
We treat winery tanks, presses bins, conveyors in our workspace equipped with all relevant tools and machinery.
Hartech offers onsite corrosion treatment services for tanks, structures, heritage buildings and bridges through our mobile unit inclusive of dust collections and encapsulation features.
SERVICES WE OFFER
ABRASIVE BLASTING (grit, garnet and glass bead)
HIGH-PRESSURE WATER BLASTING
CAUSTIC CLEANING TANKS
PRIMING (zinc, phosphate, epoxy)
MID COATS (tie coat, high builds)
TOP COATS (enamel, epoxy, urethane two packs)
POWDER COATING (zinc priming, all colours)
GALVANISING SERVICE (3-day turn around max)
ONSITE WORKS – Tanks, Structure, Heritage, Bridges (Mobile unit with dust collection an encapsulation)
WINERIES – Tanks, Presses, Bins, Conveyors (Confined Space work with all equipment)
PICK UP & DELIVERY – We have 2 trucks and 1 ute
Read below to see how we can help you.
Abrasive Blasting Services
Effective corrosion protection can only happen if the surfaces are prepared correctly. Not only is it important for the surface to be clean, but surface profiling is also essential for the coating to adhere to it properly. Abrasive blasting is the technique of surface profiling to required specifications. Hartech offers precise abrasive blasting for grit, garnet and glass beads.
We highly recommend abrasive blasting for removal of rust, grease or stains of any nature from almost any surface. Call us today for efficient, cost-effective, environment-friendly and safe abrasive blasting for your next project.
In the factory or mobile abrasive blasting available.
High-Pressure Water Blasting
Hartech Pty Ltd provides high-pressure water blasting for removal of dirt, grime and rust from all surfaces. Using our latest, high pressure, jets we can remove rust without leaving any mess or residual compounds, thereby, preventing further corrosion.
In the factory or mobile water blasting available.
Powder Coating Services
If you want a cheaper yet durable solution for your rust problems, powder coating is what you need. It involves spraying of a dry powder on the surface. The surface is then heated in an oven, allowing the powder to melt and get set. Hartech uses zinc priming as the dry powder, which can be made available in any colour to match the paint on the surface.
In the factory or mobile powder coating is available.
Powder coating is highly recommended for rust protection on aluminium doors, vehicle parts, patio furniture and appliances, and pool fences.
Galvanizing
Galvanizing refers to the immersion of steel products and parts in a hot bath of molten zinc. Galvanizing adds a protective layer of zinc over the metal, thereby helping in the prevention of rust.
At Hartech Pty Ltd, we offer galvanizing services with a turn-around time of fewer than 3 days. Choose us for your galvanizing work and get a durable, long-lasting, quicker anti-rust coat.
Priming
Priming is a fail-proof way of protecting your surfaces against rust. A primer is applied as a base protectant on the outer surface of a building or wall. It shelters the building from rust as well as weather elements.
In factory or mobile surface priming available
At Hartech, we use zinc, phosphate and epoxy primers for corrosion prevention.

ADDRESS: 34 ADAM ST, HINDMARSH, SA, 5007
Pick up and delivery service available
Nace Coating Inspector Level 1 – Certified, CIP No. 13390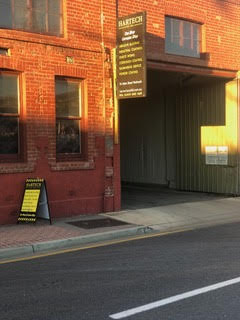 Front entrance to Hartech - 34 Adam Street, Hindmarsh S.A.5007
Follow Us on Social Media: