Hartech offer restoration services for garden furniture and all painted steel surfaces.
This includes abrasive blasting and powder coating

Abrasive Blasting
Abrasive Blasting is an efficient way of removing foreign elements from almost any surface. Hartech Pty Ltd specialise in all forms of abrasive blasting.

Industrial Coatings
Hartech is an industrial coating specialist. We supply the full range of industrial coatings which can be applied either in our workshop or on site using our fully-fitted mobile trucks.

Powder Coatings
Hartech Pty Ltd has a purpose-built workshop with the latest machinery for powder coating of all sizes and dimensions. We also have a powder coating conveyor line.

Steel Plant & Machinery
Repair & Fabrication
Hartech Pty Ltd can customize any piece of structural steel, besides repairing equipment & machinery.
We offer a comprehensive range of corrosion services – both at our factory and utilising our mobile services.
Established in 1977, Hartech Pty Ltd is a South Australian owned and operated business offering corrosion prevention and removal services across South Australian and Victorian region. We have built a name for ourselves over the years as one of the leading corrosion engineering companies in South Australia.
If you would like to know anything else about HARTECH PTY. LTD. or have any inquires please contact Matthew Lehman 0409 695 469
What We Offer
Hartech is an Abrasive Blasting, Steel Fabrication, Industrial Coatings & Powder Coating Company specialising in residential, commercial and industrial rust removal and protection. Other services we specialise in include:
Galvanising, and
High-Pressure Water Blasting
Finally, priming
Over the years, we have serviced a vast variety of industrial and commercial clients including resorts, yacht clubs, surf clubs, mining trucks and cranes, and also caravan parks. This richness of experience has equipped our staff with the technical know-how, skills and, most importantly, the confidence to take on any corrosion job in any area, home or building.
Get The Hartech Advantage
Hartech is your one-stop corrosion shop for all your anti-rusting needs. We will pick up the equipment to be worked on and complete the job in our factory. OR if need be we will conduct the job on site because we have trucks fully equipped with latest auto corrosion equipment, sandblasting plant and spray painting plant.
Give us a call if you :
Need a long-lasting solution to your rusting problems, or
Don't want to wait for your powder coating work to be finished in your office building
Want the best quality industrial coatings for your plant and equipment
Need advice about the ideal primer for your house, boat or yacht
Finally, are looking for onsite blasting or coating service
Painting Contractors Certification Program
Hartech Pty Ltd has just completed the application/Audit process to become PCCP accredited, it is a long process with a lot of audits on how Hartech operate and the Management and Quality systems Hartech have in place.
PCCP (Painting Contractors Certification Program) is administrated by CSIRO from their offices in Clayton, Victoria 3168.
Hartech has recently upgraded their skills and undertook training in hazardous coating removal. Furthermore, Hartech now has 2 responsible persons and three hazardous coatings workers Qualified and accredited. Read more
The Promise of Quality
At Hartech, we have adopted a proven quality process to ensure the products we use for your project are of premium quality. Owner and MD, Matthew Lehman, is a NACE (National Association of Corrosion Engineers) Level 1 certified coating inspector armed with over 20 years of industry experience. Moreover, each member of our team is fully qualified, licensed and well trained in different domains of blasting and coating. Therefore, when you choose us for your next corrosion project, you can rest assured of being serviced by a trusted and experienced name in the industry.
Faster Turn-Around Time, Personalised Service
We know how stressful rust-damage can be for you. Therefore, Hartech staff help our customers fight rust and corrosion. We provide regular maintenance and inspection services for corrosion prevention in South Australia and Victoria. We strive to deliver on time and within budget customer service every single time, with usual turn-around times of less than a week.
Sustainable Practices
Hartech is a firm believer in protecting the environment. Hence, we understand that the nature of our operations has environmental implications. Also, we take every necessary step to ensure we minimise our footprint on the environment with regards to air and water quality, noise and waste management.
State-of-the-art Equipment
Being well equipped with the latest tools of the trade is an essential prerequisite of our business operations. Firstly, Hartech uses 2×4 tonne trucks for pick – ups and deliveries. Secondly, we also have 3.5-tonne forklift facilities for loading and unloading at our purpose-built workshop. Thirdly, we have carefully screened and recruited staff licensed for confined space works. Finally, at Hartech, we even have our own confined space set-up and rescue equipment.

ADDRESS: 34 ADAM ST, HINDMARSH, SA, 5007
Pick up and delivery service available
Nace Coating Inspector Level 1 – Certified, CIP No. 13390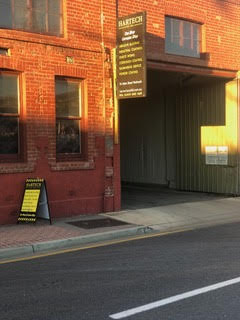 Front entrance to Hartech - 34 Adam Street, Hindmarsh S.A.5007
Follow Us on Social Media: