STEEL FABRICATION ADELAIDE
Hartech Pty Ltd are experts at steel fabrication and can custom make virtually any piece of structural steel. We are also experts in repairing equipment, machinery and plant including workshop and metal machinery. Moreover, we understand that having a critical machine or plant down can translate to potential loss of business for you. Consequently, at Hartech, we have employed the most experienced plant and machinery repair tradespeople who are fully qualified to handle all aspects of the job.
Corrosion and rust can impose a significant safety risk and contamination of products. At Hartech, we understand the need for services continues during repairs. Hence, our many years of experience means we can find the quickest and most effective way to repair the corrosion and rust problems.
The Machine Experts
At Hartech, we have built an extensive bouquet of services in repair and maintenance of plant and machinery, besides steel fabrications.
Our Steel Fabrication service portfolio includes:
Sheet Metal & Steel Fabricated Machinery
Folding Machines
Sawing Machines
Pressing Machines
Bending Rolls
Other Machinery
Workshop Machinery and plant
Hydraulic Machinery and plant
Pneumatic Machinery and plant
Agricultural Machinery and plant
Metal storage facilities
Minimum Downtimes
Over the years, we have carved a name for ourselves for providing professional and trustworthy services. We are firm believers of the adage "time is money". When you call us to repair your steel fabrication, plant or machinery, you will not have to wait long periods before getting a solution. We believe in working hand-in-glove with our clients, aligning our service and repair schedules to match your time requirements. This helps us deliver most of our projects within budgets and with least downtimes.
Your Emergency Saviours
Hartech sources and procures materials from a vast network of suppliers spread across the South Australian region. This, coupled with our in-house stock in the workshop, means we can come to your rescue at short notices for those emergency breakdowns. Hartech can have your machine or plant up and running in no time!
On-Site Repairs
We have state-of-the-art mobile service vehicles for onsite repairs of fixed and mobile plant machinery. These vehicles are laced with top-notch tools and equipments to give you quality professional services.
Give Hartech a call today to find out how can we assist you in your plant and machinery breakdowns – whether its minor troubleshooting or major repairs or preventive maintenance – we have you covered!

ADDRESS: 34 ADAM ST, HINDMARSH, SA, 5007
Pick up and delivery service available
Nace Coating Inspector Level 1 – Certified, CIP No. 13390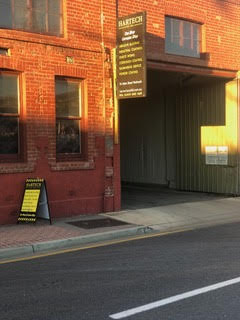 Front entrance to Hartech - 34 Adam Street, Hindmarsh S.A.5007
Follow Us on Social Media: