Hartech Pty Ltd offers industrial coating supply and application across Adelaide and regional South Australia. We are committed to delivering quality coating services at competitive prices. Our ever-growing list of leading industry leaders as customers is testimony to our exceptional service and workmanship.
Mathew Lehman, the principle of the company, is an approved coating Applicator.
Give us a call today for a quick quote and let us get your plant and machinery in the best shape.
INDUSTRIAL COATING BRANDS AVAILABLE AT HARTECH
At Hartech, we understand how concerned you are about the quality of your coating job. Consequently, we procure and use industrial powder coatings supplied by a network of carefully selected and trusted suppliers. When you choose us for the coating job, you can rest assured of getting the best quality surface coatings.
Before starting work on your project, our team of expert applicators will inspect your coating job and understand your requirements. Subsequently, we will advise you on the brand and type of coating product that is most suitable for your job. Once you are satisfied with the choice, only then will we begin the coating application, thus, enabling us to deliver the final project up to your complete satisfaction.
We use the following brands of surface coatings:

ADDRESS: 34 ADAM ST, HINDMARSH, SA, 5007
Pick up and delivery service available
Nace Coating Inspector Level 1 – Certified, CIP No. 13390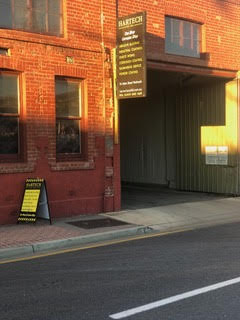 Front entrance to Hartech - 34 Adam Street, Hindmarsh S.A.5007
Follow Us on Social Media: